Cody J. Burgin | Robert J. Reeves P.C.
Education
University of South Carolina School of Law, Juris Doctor, 2017.
Appalachian State University, Bachelor of Arts, English with a concentration in creative writing, Bachelor of Arts, Spanish, 2014.
Bar Admissions
South Carolina Bar, 2017.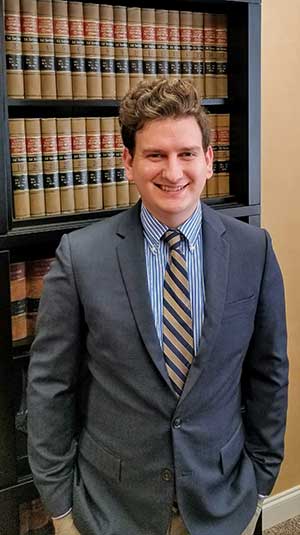 Cody Burgin was born in Louisville, Kentucky. In 1998, Cody's family moved to Indianapolis, Indiana, and, in 1999, his family moved again to Charlotte, North Carolina. He graduated from Myers Park High School in 2010, after completing a combination of AP and IB courses. Upon graduating high school, Cody enrolled at Appalachian State University, where he pursued two bachelor's degrees. Cody graduated in 2014 with a Bachelor of Arts in English with a concentration in creative writing and a Bachelor of Arts in Spanish. He immediately enrolled at the University of South Carolina School of Law, where he was a member of the Journal of International Law and Business. He graduated law school in May of 2017 and passed the bar in October of the same year.
While in law school, Cody took every available class in family law. These courses included Family Law, Advanced Family Law, and an Immigration and Family Law Skills Workshop. Cody also interned during his 1L summer at the South Carolina Department of Health and Environmental Control, where he worked closely with members of DHEC's general counsel to research new issues in family law that the department would face (same-sex marriage, for example). Then, during his 2L summer, Cody received the Konduros Public Service Fellowship and worked for the South Carolina Center for Fathers and Families, where he researched a variety of legal challenges that fathers face in the world of child custody. Cody crafted his law school experience so that, upon graduation, he could focus his law practice exclusively on Family Law and Divorce cases.
Since passing the South Carolina Bar, Cody joined Robert J. Reeves, P.C. as an Associate Family Law Attorney. Working directly with Mr. Reeves, Cody drafts pleadings, answers, and discovery requests, and argues Motions in Family Court. Cody's calm demeanor gives him the personality required in family law to help guide and counsel you through this most difficult time of your life. Try not to worry. We will be there beside you every step of the process.
Protecting your rights in family court
Cody will do his absolute best in vigorously representing you and your interests. In addition, he will be there to coach you through the unique difficulties that family law and divorce bring. And, he will do all that he can to ensure that the decisions you make are the right decisions for you and your child and that you understand the legal consequences of the decisions you make and have already made.
If you are going through domestic issues such as divorce or a custody dispute, do not hesitate to call Attorney Cody J. Burgin and get the process started. Even if nothing has been filed yet and you are unsure about filing first, taking the time to sit down with a family law attorney is an incredibly important first-step to ensure that your rights and interests are protected in the short and long-term. Call us today to schedule a consultation and learn where to go and what to do next. You don't have to go through this ordeal alone.
get help now.
(704) 351- 7979
after hours, evenings, or weekends
Legal Help Videos
Check out our featured videos for some legal advice from our attorneys!