CHARLESTON SC DUI ATTORNEYS | ROBERT J. REEVES P.C.
ARRESTED FOR DUI IN CHARLESTON SC 
Charleston, South Carolina, is consistently named as one of the best places to live and vacation by travel magazines. Those born here already know it and never really consider leaving the area. Those who come to vacation learn it and then find themselves returning year after year. Everyone falls in love with the area and fantasizes about one day retiring here. We have both a unique blend of history combined with new and emerging markets. We have The Citadel and the College of Charleston. We have a thriving port and are now the home port for the Carnival Cruise "Fantasy." We have a new Boeing aircraft manufacturing plant located next to our international airport. We have industry, cutting edge technology, website SEO companies, and, of course, tourism. In short, Charleston SC has it all.
Sadly, Charleston also has some of the highest DUI arrest rates in all of South Carolina. And whether you live here or are just a guest for a brief stay, a DUI arrest can happen quickly and without warning. One minute, you're at a bar and heading home or back to your hotel. The next moment, you are being handcuffed and put in the back of a police car. If convicted, a DUI  will be on your record forever. Try not to worry. Some of the best SC DUI lawyers practice their trade here in Charleston.
We are Charleston SC DUI attorneys. We proudly and compassionately represent those arrested and charged with DUI, DUAC, and BUI in the Charleston area. We offer a state-wide practice and have an office in Mount Pleasant where we can meet with clients on an appointment basis. We are principally located in Fort Mill SC but will go wherever we are called to serve, including Charleston, Mount Pleasant, James Island, Daniel Island, the Isle of Palms, and North Charleston. We hope you will carefully consider our attorneys' credentials and criminal experience in your search for a Charleston SC DUI attorney. We would be honored to represent you and help assist you and your family get through this ordeal. We know this is serious, and we take our responsibility to you seriously as well.
OUR ATTORNEYS DUI CREDENTIALS 
Although part of a larger law firm with multiple offices and a South Carolina state-wide practice, we are here in Charleston SC to better serve our clients charged with "driving under the influence" (DUI), "driving with an unlawful alcohol concentration" (DUAC), or "boating under the influence" (BUI). Our sole focus here is aggressively representing those clients arrested for drinking related offenses. We are Charleston SC DUI attorneys but also associate established local counsel as part of our team dedicated to providing our very best efforts in preparing your case for trial.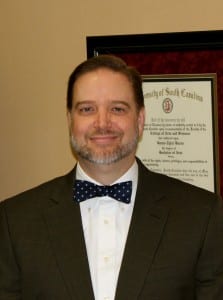 Attorney Robert J. Reeves has been a practicing lawyer since 1989 and has over 25 years experience in litigating and resolving both civil and criminal cases. He has undergone police training and received certificates from the National Highway Transportation Safety Administration (NHTSA) in "DWI Investigation and Standardized Field Sobriety Testing" as well as the "Advanced Roadside Impaired Driving Enforcement (ARIDE)" courses. Mr. Reeves is also a member of the National College for DUI Defense and has been inducted into the National Trial Lawyers Top 100 for South Carolina. Mr. Reeves is a former Registered Nurse (RN) who uses his medical training to explain how the body physiologically processes alcohol. His experience is also beneficial when reviewing medical and toxicology reports. He is also adept at cross-examining State forensic experts at trial. 
THOMAS W. HOLLAND SR. ()
Mr. Holland has been a practicing trial lawyer for over 20 years. He began his career as a South Carolina prosecutor working as one of the Assistant Solicitors with the Sixteenth Judicial Circuit (Union County), then as violent crime prosecutor with the Sixth Judicial Circuit, and as a Lancaster City Solicitor. Mr. Holland has served as Special Assistant United States Attorney and been General Counsel for the Lancaster County Sheriff's Office. In addition to his law practice, he is also an Adjunct Instructor at the Lancaster campus at the University of South Carolina where he teaches Criminal Procedure and Policing/Criminal Courts. From his years as a criminal prosecutor, Mr. Holland now uses that experience to aggressively represent individuals charged with DUI and other crimes. He carefully reviews all State's evidence, first looking for legal error and then evaluating how a client appears on video for jury consideration.
HOW WE APPROACH CASES
We are DUI Lawyers in Charleston SC. First, we start with the firm proposition that our clients are innocent and  have been wrongfully charged with a crime. We think that outlook is important as it will guide our efforts when reviewing the State of South Carolina's case against you. Just because you have been charged does not mean you are automatically going to be convicted. The converse is often true despite public perception otherwise.Of course, each case is unique and turns on its own particular facts. However, it is important to note that the State of South Carolina has the entire burden of proof on every issue. Prosecutors and police have to convict you by convincing all six (6) or twelve (12) jurors unanimously of your guilt "beyond a reasonable doubt." That is a pretty high bar to reach. Our job as DUI defense attorneys is to find areas in the State's evidence where we can create reasonable doubt. We will be specifically looking for instances where the police did not follow procedure and committed legal error. The point is you should not assume you are going to be convicted. SC DUI laws are fair, and we have lots of defenses available under our system.
HOW WE PREPARE AND DEFEND OUR CLIENTS' CASES
There are a significant number of law firms in the Charleston SC area that market for DUI , DUAC, and BUI cases. However, a closer review will reveal their actual experience in handling these complex cases varies dramatically. Our law firm primary focus is DUI, DUAC, and BUI arrests, and we employ a "team approach" in evaluating and developing individualized defenses in each case. Because every arrest scenario is unique, each case has different factors to consider. One constant, however, always remains the same. We always prepare to go to trial. The only thing that will stop us is the State of South Carolina makes you an offer you decide to accept after our consultation. We are not a DUI firm that seeks a "reckless driving" plea. Such an option may turn out to be the best resolution, but that is not our initial goal. Instead, we carefully investigate every aspect, including all video (roadside and breathalyzer room), officer notes, as well as potential witnesses. While evaluating for legal challenges, we also examine how a jury might view the video evidence at trial. How our client appears on the police video often makes the difference between a conviction and an acquittal. We are there to highlight those areas where our client does not appear impaired and to explain away those areas which may appear to be impairment. There are many behaviors that can be easily confused with alcohol or drug impairment. If someone has been in an accident, there will look dazed and confused. Other medical conditions, like diabetes, can also appear to be impairment if no other explanation is offered. Once a comprehensive review of all evidence has been completed, we then sit down with you and present our evaluation as well as options and recommendations. We answer all of your questions. And then, the decision of how to proceed is yours – always. You remain in control of your case at every stage. We just advise and suggest courses of action.
WE RETURN CLIENT PHONE CALLS
One of the biggest complaints against all businesses, but especially lawyers, is that they never return calls once you hire them. We practice our profession a different way. You are our client and are important to us. We honor the trust you have placed in our firm and will work to preserve that relationship. We want your loyalty and recommendations in the future. Return calls may come later that evening, but they will be returned, usually the same day. We are also available through emails. We can respond to emails even if we are sitting in court waiting for our case to be called. More routine matters can be addressed by our paralegal staff. But sometimes, clients want to speak directly with their attorney. They are worried and anxious. If they could only get a few answers, they would feel better and sleep well. Just a few minutes on the phone can make all the difference. That's why our clients have our personal mobile phone numbers and direct emails. We make ourselves available, in the evenings, on weekends, and even on holidays, to deal with your concerns. Great service is more than just a pledge to us. It's the way we practice law.
For answers to your questions now, you can reach Mr. Reeves directly by calling 843-901-0380. You can also email . We look forward to seeing what we can do to help you.
[iconbox title="Office Location:" icon="Marker.png"]The Tidewater Building. 222 West Coleman Avenue, Suite 123, Mount Pleasant, SC 29464[/iconbox]
CAN WE HELP YOU?
Get answers to your questions now.
Call 803-554-4157 
after hours, evenings, or weekends
Legal Help Videos
Check out our featured videos for some legal advice from our attorneys!