COLUMBIA SC WORKERS COMPENSATION ATTORNEYS | AIKEN & HIGHTOWER P.A.
AIKEN & HIGHTOWER P.A. | COLUMBIA SC WORKERS COMP LAWYERS
There are many Columbia SC law firms that advertise seeking workers compensation cases, but few plaintiff's attorneys actually focus their practices on this complex area of law. On the other side, defense firms that represent employers and their insurance companies employ specialized teams of lawyers who practice nothing else. So how do you "balance the playing field?" We encourage you to carefully review and then compare different firms and lawyers before deciding who to hire. This first decision is critically important and can oftentimes make a real difference in the outcome of your case. There is too much at stake here to simply hire the law firm with the largest phone book ad or flashiest television commercial.  As you consider which lawyer and firm to help you and your family, we offer the following credentials and experience for your consideration:
At Aiken & Hightower P.A., our attorneys focus their practice on serious personal injury cases. Columbia SC workers compensation attorney Arthur K. Aiken of the firm has practiced workers comp law for over 25 years. Mr. Aiken started his practice as an insurance defense lawyer who spent the first ten (10) years representing insurance companies and self-insured employers throughout South Carolina. He has tried many cases at hearings and argued numerous appeals before the South Carolina Workers' Compensation Commission. He has even appeared before the South Carolina Court of Appeals and Supreme Court and has published opinions that changed or clarified existing SC law. Now, as an aggressive workers comp advocate for injured workers and their families, Mr. Aiken works tirelessly to explore every aspect of a case and seek all available benefits for his clients. He will sit down with you and personally explain how the process works, what benefits can be pursued, and how he will prepare your case for trial. This is not one of those "mill" firms where you never get to actually speak with a lawyer. Mr. Aiken will handle your case from start to finish.
SC WORKERS' COMPENSATION E-BOOK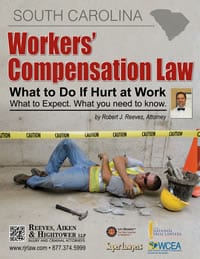 We know this is serious for both you and the people who count on you, and we prepare every case as if we are going all the way to hearing. Only after we have reviewed all relevant accident facts and medical records can we then assure you that we have done our best on your behalf. To schedule a private consultation, you can call our office at 803.799.5205. We look forward to helping you if you need us. At a minimum, you are going to sleep better tonight after learning what can be done. We will guide you and your family through the legal maze and get you to the other side. Call us today for answers. We look forward to speaking with you.
CAN WE HELP YOU?
Get answers to your questions now.
Call 803-554-4157 
after hours, evenings, or weekends
Legal Help Videos
Check out our featured videos for some legal advice from our attorneys!
Watch Now