FORT MILL TRUCK ACCIDENT ATTORNEYS | ROBERT J. REEVES P.C.

WHY HIRE US AFTER A FORT MILL TRUCK ACCIDENT
A Fort Mill truck accident starts with a semi truck that can legally weigh up to 80,000 pounds. Just think about that much weight traveling down the road. Consequently, tires can blow, brakes can fail, and loads can shift causing instability and loss of control. When that happens, large truck crashes occur and destroy everything in their path. Hence, accident scenes look like a bomb exploded. Victims often describe an erie silence afterwards and ask how they lived through it. But truck crashes are not accidents. Rather, they usually result from bad choices. Therefore, we look at the driver, the truck company, and any other responsible party. And then we hold them accountable.
FORT MILL TRUCK ACCIDENT LAWYERS
ROBERT J. REEVES P.C.
After you secure your family and reflect on what has happened, you need to contact our law firm as soon as possible. Although many lawyers aggressively market for tractor trailer accidents, few have actually handled such a case. In addition, many lawyers will treat a truck accident case just like any other car accident. This is a big mistake. Truck accident cases are significantly different.
In developing a tractor trailer accident case, it is important to discover as much as possible about the driver, the truck, the trailer, and the trucking company before beginning any settlement discussions. There could be multiple parties involved, each with their own role and insurance coverage. The minimum coverage limits to operate a commercial truck is $750,000, but even that figure may not be enough to fully compensate someone who is seriously and permanently injured. It is critical to explore every possible avenue of responsibility so that you and your family are protected now and in the future.
OUR CREDENTIALS AND EXPERIENCE
Our firm is located here in Fort Mill SC and we have practice law in York County for over 25 years. He is licensed in both South Carolina and North Carolina. Robert J. Reeves is a seasoned trial attorney with experience in both civil and criminal matters. This background is very helpful as there are often both criminal and civil aspects to a Fort Mill truck accident. Mr. Reeves is also a former Registered Nurse (RN) who has treated patients with serious, life threatening injuries. He understands complex injury cases to insurance adjusters, defense lawyers, or if needed, to juries. Mr. Reeves is a member of the Million Dollar Advocates Forum and National Trial Lawyers Top 100 for South Carolina.
Mr. Reeves appreciates the stress and fear you are experiencing, and he knows that being able to speak with your lawyer can often help you get a better night's sleep. Just a few answers and a little information can make a real difference. That is why every client has his direct contact phone number and email address. You can reach Mr. Reeves now at 803-554-4157 or email him at . We would be honored to be considered and welcome a chance to sit down with you personally. If you need us to come to your home or even the hospital, we will be there for you.
CHOOSING A FORT MILL TRUCK ACCIDENT LAWYER
As explained earlier, you should start your search for an experienced truck accident lawyer as soon as possible. Time is often critical in these cases. Everyone "knows" a good lawyer, and this may be a good place to start. However, we respectfully suggest that you do your own research. Carefully compare different lawyers' credentials and experience. We even encourage you to personally meet and interview several attorneys before you make your final decision. You will know when you have met the right lawyer for you and your family. You need to have confidence but also feel comfortable with the truck accident lawyer you choose. We invite you to call us and schedule a time to meet so that we can show you how we approach and handle these complex cases.
INJURED IN A FORT MILL TRUCK ACCIDENT
Being located just below Charlotte,Fort Mill has seen tremendous growth over the years. Both I-77 and Highway 160 have been expanded to accommodate the increased traffic. But with more traffic, we are also experiencing more semi truck and tractor trailer truck accidents. When these commercial trucks lose control at highway speeds, bad things happen quickly.
Located here in Baxter Village, Fort Mill truck accident attorney Robert J. Reeves represents injured persons and their families when they are injured due to someone else's negligence or carelessness. Our personal injury lawyers are experienced trucking accident trial attorneys who are committed to making our roads safer by holding trucking companies and their drivers accountable when their negligence cause serious injury or death. We are aggressive litigators but compassionate with our clients and their families. We know you are suffering and pledge to do our best to help get you through this terrible time in your life.
WHO IS RESPONSIBLE FOR A FORT MILL TRUCK ACCIDENT
While State and federal agencies have tried to minimize the risks by enacting extensive regulations for the trucking industry. Violations of these safety rules will help the plaintiff prove their case against irresponsible trucking companies and dangerous drivers. There are many common causes including inexperienced or fatigued drivers, aggressive or impaired driving, improperly maintained trucks and trailers, and overloaded or improperly loaded freight on trailers. When something bad happens, we gather as much evidence as quickly as possible. The South Carolina Highway Patrol sends a Multi-disciplinary Accident Investigation Team (MAIT)  that investigates serious vehicle crashes. Using state-of-the-art technology, they analyze what happened and reconstruct the scene.
In many truck accident cases, there are limited witnesses and conflicting accounts of what happened. A MAIT report bases its findings on physical evidence found at the scene and witness statements. However, sometimes even these reports are inconclusive. And then independent accident reconstruction experts may be needed. Tractor trailer cases can be expensive to fully investigate and prosecute. Given the seriousness of injury and the large potential verdicts, trucking companies and their insurance carriers usually defend these cases very aggressively.
EXPERIENCED REPRESENTATION EVEN IF LIABILITY IS ADMITTED
Many people wonder if they really need representation if the accident report shows the other party at fault. In addition, insurance adjusters tell you lawyers will take half your money. But liability is just the first step in a case. While fault may be fairly clear in some situations, the other critical part of your case is damages. In addition to medical bills and lost wages, there may be ongoing future medical expenses and other issues. Furthermore, future lost wages from not being able to work has to be factored. In conclusion, there is too much at stake to try and represent yourself. Rather, better leave this to the professionals.
The first goal is to establish your full case value and try to collect as much available coverage as possible. Then, the next challenge is dealing with health insurance or other statutory liens that must be negotiated. When a health insurance company or Medicaid / Medicare pays hospital and other charges, they have a lien against any recovery made. These liens have to be resolved so that you keep more of your settlement or verdict. Try not to worry. This is part of our job and what we do as your lawyer. In the end, you will receive a settlement amount that is yours free and clear.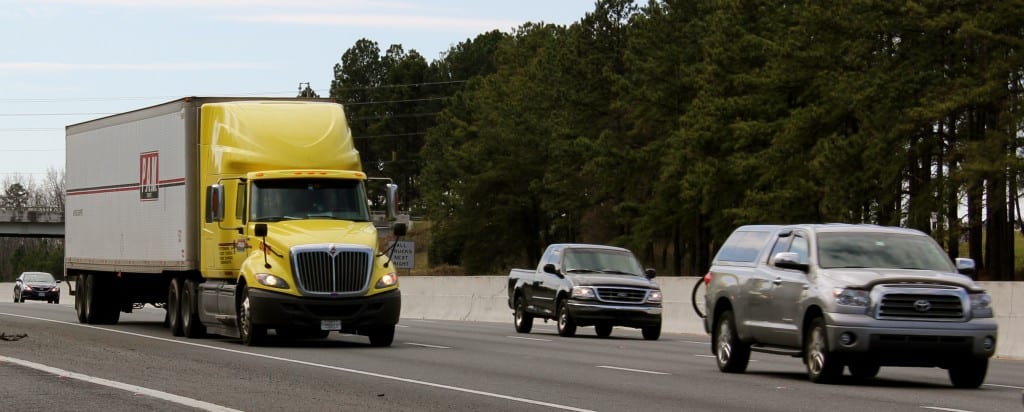 FORT MILL TRUCK ACCIDENT CAUSES
Commercial "big rigs" are the heaviest vehicles allowed on the road. Their size and weight can suddenly become unstable at highway speeds. When they do, everyone else on the road is in real danger. State and federal agencies have enacted extensive regulations for the trucking industry, but we are still seeing increases in serious truck accidents nationally.
TRUCK DRIVER SHORTAGE
There is a significant truck driver shortage across the country. All of us know the importance of trucking to our economy. Pretty much everything we use is moved by tractor trailer trucks. They are everywhere on the roads from interstates to inner cities and small towns. Nevertheless, the younger generation has no desire to be a truck driver. Those who do it know that long haul driving is hard work. There are long hours on the road and days or even weeks away from family and friends. Recruitment of new drivers has become much more difficult. Even great starting pay and benefits have not been enough to draw younger drivers into the profession.
INADEQUATE TRUCK DRIVER TRAINING
There are many truck driving schools available, and trucking companies will often pay a signing bonus that covers the costs of training. What is surprising, however, is how quickly a driver with no prior experience can get behind the wheel of a semi truck. New drivers can be on the road in just 3 weeks. That's right. Just 21 days. Initial classroom "book work" takes one (1) week followed by two (2) weeks of driver training with an instructor. Training typically includes a single lesson in night driving. When they graduate, most truckers prefer nighttime hours due to decreased traffic. Inexperience causes accidents, and consequences are severe.
TRUCK DRIVER FATIGUE
Experienced drivers say you have to build up a tolerance to driving for hours at a time day after day. Consequently, new inexperienced drivers report driver fatigue. And, as we age, our minds and bodies tire more quickly. As a result, it gets more difficult to drive long haul as we get older. The average age for a truck driver today in their mid-50s. Coffee and other stimulants will work for awhile, but drivers build up a tolerance. The physical toll on human physiology makes semi-truck drivers chronically tired. Mistakes and delayed responses due to fatigue cause serious crashes and injury.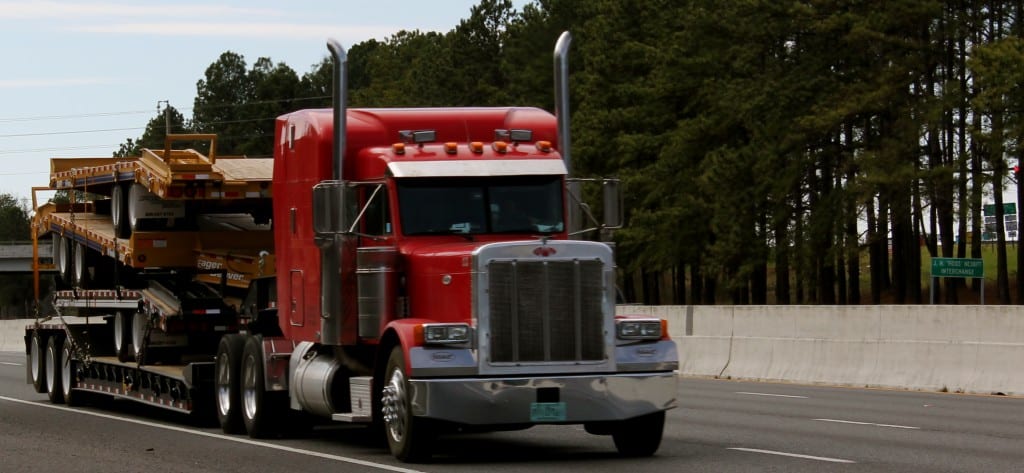 IMPROPER LOADING
Given the high costs, trucking companies need to squeeze every dime out of every run. As a result, we are routinely seeing the type of dangerous situations depicted in the photos on this webpage. These are not photoshopped images. I personally took these pictures on the I-77 near Fort Mill. Any sudden stopping or other needed evasive action can cause these loads to shift and result in loss of control of the entire rig. We know what happens when these heavy loads shift at highway speeds. Every other vehicle on the road with families is at risk. Anything and everything in a truck's path will be destroyed until it finally comes to a stop. The problem is that it is difficult to stop 80,000 pounds. This is why regular truck and trailer maintenance is so critical. Every system has to work properly to control and maneuver such heavy loads safely.
COST PROHIBITIVE MAINTENANCE EXPENSE
Everything associated with semi-trucks, including maintenance, is expensive. New trucks can easily cost in excess of $100,000. Tires, replacement parts, oil and hydraulic fluid changes all cost significant money. In addition to these costs, there is also the loss of revenue while the truck is down. Truck drivers will tell you the only way to stay ahead is to keep the wheels turning. Every mile and dollar counts. Tires and other systems have an anticipated mileage life. Trucking owners necessarily wait to bear those expenses. As a result, critical items may also delayed, sometimes even beyond specific factory recommendations. Towards the end of a service cycle, heavy loads or hard evasive driving in a sudden emergency will exceed the systems ability to maintain control or stop. Call us today and let's hold those responsible to account for what they have done.
* Membership in professional organizations shows our commitment to excellence in handling serious personal injury cases. Carefully compare a lawyer's experience and credentials before deciding which firm to represent you and your family.
CAN WE HELP YOU?
Get answers to your questions now.
Call 803-554-4157 
after hours, evenings, or weekends
Legal Help Videos
Check out our featured videos for some legal advice from our attorneys!
Watch Now