FORT MILL DIVORCE LAWYERS
WHY YOU SHOULD MEET WITH US FIRST
We are Fort Mill divorce lawyers located in Baxter Village. You are seeking information and may be considering divorce. You may not have decided yet, or your spouse has. Either way, we can help. We try to answer most questions here. But, for more particular guidance, we need to meet and get more information. Learning what to expect will help calm your anxiety. And knowing your options will help you make better choices. Divorce is a process. We start now.
INITIAL CONSULTATION
At a minimum, you should sit down with us and learn what you are facing. Whether considering divorce or already going through one, having experienced, professional family lawyers on your side is critical. So how does this work? First, we prescreen you over the phone to see what you need. If we can help, we schedule a time to meet. We listen to your concerns and answer your questions. Then, we explain the Fort Mill divorce process in detail. At that point, you will know your rights and can better decide how to go forward. You're going to sleep better now.
We charge an initial consultation fee of $300.00. If you hire us, we credit that fee towards your retainer or flat rate. Regardless if you hire us or not, the consultation remains completely private and confidential. But now, you have the information you need to know. And no one can intimidate you once you learn your rights. Finally, with options, you can make better decisions about your life. Feeling better? Keep going.
FORT MILL DIVORCE ATTORNEYS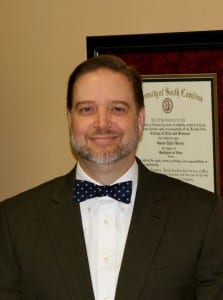 Mr. Reeves is an experienced criminal and civil trial attorney with over twenty-five (25) years experience. He is licensed to practice law in both South Carolina and North Carolina. While he focuses his primary practice on serious personal injury and DUI defense, Mr. Reeves is a seasoned negotiator and litigator. He is a member of the National Trial Lawyers Top 100 and Super Lawyers.
Sometimes, a "team approach" is better for your case. If so, Mr. Reeves and Mr. Holland work together to protect you. In complex divorce cases, it is helpful to have two lawyers on your side. Also, if there is adultery, you can sue in North Carolina. Mr. Reeves can pursue money damages from the lover of a cheating spouse. Such option can be satisfying both personally and also help your divorce case. Being licensed in North Carolina, you don't have to hire two separate law firms. We can do it all.
OUR APPROACH TO HANDLING DIVORCE CASES
First, if possible, we encourage our clients to try to resolve their differences and save their marriage. You should find a reputable family or marriage counselor and give it your best efforts to resolve and move forward. Of course, in some situations, this option is taken away, often by surprise, through infidelity or finding out that your partner is already looking to pursue a divorce. If served with a divorce action, you should contact us immediately so that we can meet and review your potential options in both the short and long run.
Second, if the marriage cannot go forward, we strongly suggest trying to reach an agreement with our guidance. Everything that can be worked out before hiring a lawyer will save legal fees. Ideally, we review and adjust an initial agreement and appear in front of a York County family court judge for approval. Let's try and make this process as least painful and costly as possible.
Finally, if it just cannot be worked out peaceably, we will get ready and litigate your divorce case. This is the last option as it is the most expensive and will result in ongoing stress and acrimony. While we prefer a different approach, our firm is not afraid to "get in the ring and fight" on your behalf. If you find yourself here, you can at least know you did everything you could to avoid it. Unfortunately, the other options require BOTH parties to participate. Regardless, we will be right there beside you throughout the process and do all that we can as your lawyers.
DIVORCE DOESN'T HAVE TO BE DIFFICULT
Sadly, roughly half of all marriages today end in divorce. There are many reasons why. Usually, it is cheating. In other cases, couples grow apart. Perhaps we just give up too easily. Regardless of the reason, you need to know what to expect and what options are available under South Carolina family law. If your spouse files first, you want an experienced, compassionate family lawyer. That's what our Fort Mill divorce attorneys offer here in Fort Mill.
At Robert J. Reeves P.C., our family attorneys pledge our support and provide all clients with our direct mobile phone numbers and email addresses. Of course, you do not need legal advice for every frustrating circumstance (former spouse late to pick up children). But for truly substantive matters, you will sleep better if you can get some answers. We appreciate the anxiety and even isolation you may be feeling. We have been there ourselves. That's why we will be there to help get you through this life ordeal. We are here in Fort Mill and would be honored to be your family law attorney.
BAXTER VILLAGE FORT MILL DIVORCE LAWYERS
The family law firm of Robert J. Reeves P.C. is located here in Baxter Village. Our Fort Mill divorce lawyers can take away some of the confusion and fear. Some clear answers and professional guidance will help you decide what is best in your particular situation. We focus our family law practice here in the Fort Mill (York County) area and represent residents living in Fort Mill, Tega Cay, and Indian Land. We encourage you to compare our family law credentials and experience and then sit down with us for a private, confidential consultation.
If you decide to divorce, your first critical decision is which family law attorney to hire to protect your interests. We respectfully suggest that you hire the lawyer who gives you the most confidence but also puts you at ease. These are very stressful times. But someone with a calming influence can help the process. We know. Having a lawyer who is available is also important. Problems arise quickly during divorce and rarely occur during "regular business hours." For minor issues, we encourage perspective and discretion. But for those truly important matters, you need prompt advice and guidance. This is why our attorneys are available to clients even "after hours" through direct email and mobile phone access.
FORT MILL FAMILY LAW ATTORNEYS
Our family lawyers understand what you are going through because they have been there themselves. Despite the grim statistics, no one expects their marriage to fail. They see friends or even family members part and go their separate ways. Nevertheless, we still don't see ourselves getting separated or going through a divorce. This is quite normal as everyone likes to believe "bad things" only happen to other people. Then, there is the divorce process itself. It can be scary. Try not to worry. This is what we do.
Divorce laws in South Carolina are complex and affect every facet of your life. Child custody, visitation, alimony, and property issues have to be resolved. As such, it is unwise to handle a divorce on your own. As you go forward, having an experienced and compassionate family law attorney guide you is worth the investment. Mistakes will cost you both short and long term. This is what we do. Our lawyers separate the intense emotions and focus on making good decisions. You have to do what is best for yourself and your children.
MAKE BETTER DECISIONS DURING FORT MILL DIVORCE
How can you make good decisions while under the stress and conflicting emotions of a troubled marriage. Your mind races with questions. And everything is so confusing. You want to do the "right thing." But all of the fighting and arguing makes it impossible to think straight.  You are confused and hope to try to "work things out," but you fear it may be too late. At some point, you come to realize that your marriage has really been over for some time. You decide you have to act to preserve yourself and children. This is where we can help you sort through the various issues and make reasoned decisions about your next step and next chapter in life. At some point, this drama will end. But for now, you need to make the best decisions for your future.
FAMILY LAW ATTORNEYS OF ROBERT J. REEVES P.C.
We know that this is a lot of information. But we also know answers help take away fear of the unknown. We appreciate what you are going through as we have been there ourselves. This is why we explain what you are facing and what you can expect. If you can resolve your marriage, that's great. And you should make every effort to do so. If you cannot, however, we are here for you and will be there with you every step of the way. Don't face a Fort Mill divorce alone. We'll get you through this life change. Call us now for answers.
*Membership in legal organizations shows our commitment to professionalism. Every case is different, and final outcome depends on particular circumstances. After a thorough review of all facts, we will advise you on your options.
CAN WE HELP YOU?
Get answers to your questions now.
Call 803-554-4157 
after hours, evenings, or weekends
Legal Help Videos
Check out our featured videos for some legal advice from our attorneys!