INDIAN LAND SC WORKERS COMPENSATION ATTORNEYS
WORKERS COMPENSATION LAWYER ROBERT J. REEVES | INDIAN LAND SOUTH CAROLINA
Indian Land workers compensation attorney Robert J. Reeves has been practicing law since 1989. He has over 25 years experience in handling South Carolina workers compensation claims and is licensed in both SC and NC. His firm has offices conveniently located for those living in Indian Land SC in Baxter Village / Fort Mill SC as well as uptown Charlotte NC. He is a former SC workers compensation insurance defense lawyer and a former Registered Nurse (RN). Mr. Reeves has handled literally thousands of cases involving just about every type of injury. He would be honored to sit down and review your particular case to see what can be done to help. Mr. Reeves is an author and has written an easy to read and understand eBook on South Carolina workers compensation law and is a long-term member of the South Carolina Workers Compensation Educational Association. His eBook is available for download from this site. In his book, he outlines the workers compensation process and what benefits are available. Mr. Reeves makes himself personally available. Every client has his personal cell phone number 803-554-4157 and direct email  so that he can be there when they need him, even after hours and on weekends and holidays.
HOW OUR FIRM WILL TAKE CARE OF YOU AND YOUR FAMILY
If you hire us, we appreciate the trust you are putting in our care. We pledge to do our best on your behalf and to protect your interests. Towards that promise, the first step will be to sit down for a thorough review of your case. Here in Indian Land, you will always meet with an actual lawyer, not a paralegal or intake person. This initial meeting is important and usually lasts at least an hour or sometimes longer depending on the complexity of your situation. Regardless, Mr. Reeves will take whatever time is necessary to answer all of your questions and address all of your concerns. At the end, we will develop a strategy plan and explain what to expect as you progress through medical treatment. If your case is accepted, we will make sure that you are receiving the appropriate weekly compensation rate. We will then follow your medical care and keep updated by having you call us after each doctor's appointment. We will see how your healing progresses until you are ultimately released from treatment at "maximum medical improvement." At that point, you will be assigned impairment ratings and possibly permanent work restrictions. If you need a second opinion, we will seek additional medical review. We will then sit down again to review your medical needs in the future and job options. The next step is to enter into settlement discussions with the workers compensation insurance carrier and then present final offers. We will answer your questions and go over the pros and cons of resolving your case by way of settlement or going to a hearing. After we have reviewed all options, you will then be able to make the best decision on how you want to proceed after our counsel. It is always your decision every step of the way. We provide guidance and options. You decide your case.
YOUR WORKERS COMPENSATION LAWYER IN INDIAN LAND SC
Indian Land, South Carolina, is a beautiful town located on the South Carolina / North Carolina border between Lancaster and Charlotte. It is also right next to Fort Mill. It is growing rapidly, and many new businesses are coming to our area. This new growth also brings additional traffic and a "big city" feel to our rural landscapes. We love Indian Land. You can still get away from the "hustle and bustle" of the downtown area but can easily get to Charlotte for its restaurants, shopping, night life, and culture. It is the "best of both worlds." Indian Land is clearly a place people want to be. So do we. While having practiced in York County for over twenty (20) years, Mr. Reeves moved his firm to Fort Mill in 2006. He knew this area was growing and wanted to establish his practice in the area where his children were raised. Our office is centrally located to take care of clients located in Fort Mill, Tega Cay, Lake Wylie, Indian Land, and Charlotte. We are proud to be a part of the community and do our best for the clients who place their trust in our firm.
SOUTH CAROLINA WORKERS' COMPENSATION LAW – WHAT TO DO IF HURT AT WORK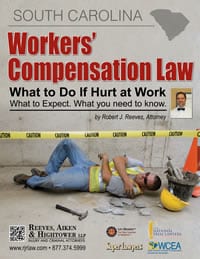 Mr. Reeves has written an eBook on workers compensation claims which is available to download from our website. In this book, Mr. Reeves explains how SC workers' compensation laws work and what to expect if you are injured "on-the-job" and decide to pursue benefits. We know and appreciate what your family is facing. We are aggressive, but compassionate, advocates for our clients. We have helped many families over the years to get through these difficult times. For those individuals with relatively minor injuries, we provide guidance through this book and over the phone consultations. Frankly, there are many situations where you don't need to hire a lawyer. Many accidents result in only medical care. No time is lost from work, and you do not want to risk a good job by "lawyering up" over something that will heal completely. In more serious injury cases, however, you would be very wise to retain experienced legal counsel as soon as possible. Injuries that require surgery, broken bones, and implantation of hardware (prosthetic devices) are very complex, both medically and legally. Without representation, you and your family are left unprotected and at the mercy of the insurance carrier.
BENEFITS AVAILABLE UNDER SC WORKERS COMPENSATION LAW
If your claim is found compensable in workers compensation, you are going to be entitled to certain benefits while others will not be available. First, the key difference between a workers compensation claim and a regular negligence action is that "fault" is not an issue. It does not matter if the employer did something wrong or even if you did something wrong to cause your accident and resulting injury. Second, your only recourse against an employer in South Carolina is a workers compensation claim. Even if the employer was grossly negligent and caused your accident, you can only bring a workers compensation action. Now, what do you get and what can you not recover?
MEDICAL TREATMENT
If injured on the job, you will receive medical care and treatment – whatever is necessary "that will tend to lessen your period of disability." Emergency room or urgent care, referrals to medical specialists, MRI, CT scans, surgery, prosthetic devices, physical therapy, and even modifications to your home are all covered. And, your medical bills are paid in full at 100% with no deductibles or out-of-pocket copays. The only catch is your employer or their insurance carrier get to choose which doctors you see. You can, however, seek a second opinion if you still feel you need additional care but only at the end of your treatment by the "authorized treating physician."
WEEKLY BENEFIT CHECKS (TEMPORARY TOTAL DISABILITY)
If you are written out of work or placed on light duty restrictions that your employer cannot provide by the authorized doctor, you will begin receiving weekly checks at an amount equal to 2/3 of your "average weekly wage" after the first seven (7) days. If you remain out of work for fourteen (14) days, you will be paid for the original week. These checks will continue as long as you are receiving authorized treatment and until you are determined to have reached "maximum medical improvement." After release from care, you will then be evaluated to see if you have suffered any "permanent partial impairment" by the treating physician. These weekly benefits are tax-free for both state and federal income tax filings.
PERMANENT IMPAIRMENT / DISABILITY
After you reach MMI, the treating doctor will assess and assign a permanent impairment rating to the particular body part affected. That impairment rating will then be considered by a SC Workers Compensation Commissioner to determine what percentage of "permanent partial disability" has been sustained. Other factors considered include the claimant's age, education, work history, and future medical care needs to determine disability. In serious, catastrophic injury cases, it may be determined that an injured worker is "permanently and totally disabled." In those extreme cases, the claimant is entitled to 500 weeks of compensation (weekly benefits and prior workers compensation claims are included) and lifetime medical care. If rendered paralyzed (paraplegia or quadriplegia), the injured person is entitled to both lifetime medical care and lifetime weekly benefit checks.
TYPES OF WORKERS COMPENSATION INJURY CASES WE HANDLE
NECK AND BACK INJURY
Minor strains that will heal completely do not require professional legal representation. Those injuries usually only require medical treatment with little or no missed time from work. The injured worker heals completely and returns to their job. However, if you sustain a herniated or bulging disk injury, then we strongly urge you to consider hiring our experienced workers compensation lawyer. These conditions are more serious and require more aggressive care. For bulging disks, physical therapy followed by steroid injections into the affected area is the standard protocol. Herniated disk injury almost always requires surgery to correct. If only one disk is involved, a diskectomy procedure is necessary. If more than one disk is affected, a much more complex fusion procedure with hardware surgery is required to stabilize and protect the injured worker from further injury or even paralysis. More modern technology involving replacement artificial disks is becoming more common and has been recognized as a substantial improvement over fusion and placement of titanium plates, rods, and screws. By comparison, the artificial disk makes the old ways seem almost barbaric.
SHOULDER AND KNEE INJURY
Rotator cuff injury is still very common in hard labor jobs, especially as workers get older. What they used to could lift and carry with ease now becomes dangerous and cause serious injury. Rotator cuff "tears" or even "rupture" are the usual scenarios, and surgical correction is required to correct. In almost every case, the person is left with permanent lifting restrictions and cannot go back to the heavy physical job that caused the injury in the first place. The same is true with knee injuries. We see a lot of meniscus tears and other knee trauma from lifting and carrying heavy objects or from falls. Once injured, the knee is never fully restored, and future injury is much more likely as both the knee and shoulder are compromised and predisposed to additional harm.
PERMANENT AND TOTAL DISABILITY
These cases are the most legally complex as these injuries represent the largest award under South Carolina workers compensation law other than paralysis injury. In order to qualify for consideration, there must be more than one (1) body part injured or affected, and the injured worker must be substantially incapable to returning to gainful employment. Section 42-9-10 is the controlling code section, and in addition to medical evidence, there must also be vocational evaluations that demonstrate the severe limitations on the ability to find work. These cases are always defended aggressively by the insurance companies, and it is imperative that your lawyer have the background and experience to properly prepare these cases for trial and expected appeal to the Full Commission. Attorney Robert J. Reeves is a former Registered Nurse (RN) and readily understands serious injury as he used to treat patients with life-threatening and life-changing conditions. He is also a former workers compensation insurance defense lawyer who has seen how plaintiff lawyers failed to properly develop the evidence necessary to win a PTD award. And, Mr. Reeves has argued many appeal cases before the Full Commission and knows what factors are critical to preserving a permanent and total disability award if appealed by the defense.
WRONGFUL DEATH CLAIMS
Unless the claim is being denied, benefits are going to be paid to the family of the deceased worker. However, you still need to hire experienced counsel to help get through the process of determining who are the proper beneficiaries and how much each are entitled. The lawyer fee in an admitted case is limited to $2,500.00, and this amount is clearly worth having someone who knows what they are doing help resolve the various issues that almost always arise. In contested cases, it is absolutely necessary to retain a very experienced workers compensation attorney. Denied cases are either challenged on the circumstances of the accident (legal challenge) or on the manner of death (medical challenge). In legal challenges, the more subtle nuances of the law usually come into play. Was the deceased worker acting within the course and scope of his employment at the time of accident. With medical issues, the use of forensic pathologists or other medical experts is necessary to establish the required causation between an accident and death. Depositions of medical doctors can be intimidating unless you already know and understand principles of human anatomy and physiology. As a former ICU nurse, Mr. Reeves has personally treated seriously injured patients and can easily review medical records given his prior training. Also, he already "speaks the language" when he needs to depose or request causation opinions from treating physicians or other medical care givers.
OUR INDIAN LAND SC OFFICE LOCATION 
For our Indian Land SC clients, our office is conveniently located off Highway 160 in Baxter Village / Fort Mill. Over the years, we have seen both Fort Mill and Indian Land explode in growth largely due to Charlotte NC. Many people are learning what we already know. It is great to be close to a major metropolitan city while at the same time being able to live in a smaller area. Plus, we have great schools and lower taxes. Of course, for serious injuries, it may be easier for you for us to come to the hospital or even your home. That is never a problem. After all, we are here to take away some of the burdens you and your family are facing. If you are coming to our office, we have included a picture of our building to the right so that you will know what to look for. You turn into Baxter Village onto Market Street. There will be a Starbucks Coffee shop to greet you. Come down three blocks and look for a three-story brick building on the right. We are on the second floor right across from the elevator above the Grapevine Wine Bar downstairs. Call us if you have difficulty. We look forward to meeting with you.
DO I REALLY NEED TO HIRE A WORKERS COMPENSATION LAWYER
That decision is always yours but can mean the difference between winning your workers compensation claim and being denied benefits permanently. This decision should be made as early as possible. In many cases, an injured worker will attempt to handle their claim on their own. When things go badly, they will then try to contact a lawyer. Sadly, there are many cases that could have been won had a lawyer been consulted earlier. However, after so long, a case can be lost as it is too late to correct some of the initial mistakes. As we indicated earlier, not every on-the-job accident requires professional representation. You can call us to review your situation. If we don't think you need our services, we will candidly tell you and then help guide you on what to do. For serious injury cases, yes you do need experienced, aggressive legal representation. We hope you will carefully compare our firm's credentials, qualifications, and experience before deciding who to hire. We want to be your Indian Land SC workers compensation attorney. Call us now for a private, confidential consultation to see what we can do to help get you and your family through this difficult time.
get help now.
after hours, evenings, or weekends
Legal Help Videos
Check out our featured videos for some legal advice from our attorneys!